A few weeks ago, a family I know passed down a huge box of cloth diapers to me. The box had an entire set of covers and prefolds and an entire set of Fuzzibunz–hundreds of dollars worth of cloth diapers and accessories. Truly a generous blessing! I had always said that I would be open to giving cloth a try, but probably only if someone gave me a set.
Not thinking that would ever happen, obviously.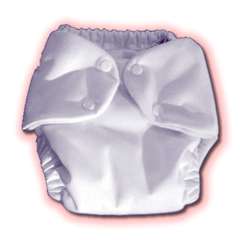 Getting a free set of nice cloth diapers is a pretty big deal. I felt like I owed it to myself to give cloth a serious chance and discern if this was something that worked for my family. I have a good friend who sells all kinds of cloth diapers and is something of an expert now (you're fabulous, Nicole!:), and she taught me how to use and care for everything, and even helped me troubleshoot and issue or two. I tried both the covers and the Fuzzibunz (and liked the Fuzzibunz better actually).
Despite pretty decent "success" in my foray into cloth (i.e. no leaking!), the short story is that cloth diapering isn't something that works for my family right now.
After several days of sticking with it, I felt a peace about choosing to pass on the box of cloth diapers to a dear friend who was thrilled to bits to have them. I think it comes down to a lifestyle change involving extra time and work that would fall virtually entirely to me, and I couldn't find in myself a deep enough conviction that this was what I was supposed to be doing for my family. When I took into consideration all of the multitude of factors that describe me, my family and everything about our life right now, cloth was "a nice thing to do," but wasn't justified deeply enough beyond that.
True confession now: I felt inordinately guilty for a brief couple of days about choosing to stick with disposables. So many families I look up to happen use cloth, and I started to wonder if they were more "evolved" than me in some way. My worries ranged from semi-legitimate to ridiculous:
Should I be more worried about the environment? Should I be more worried about the chemicals in disposable diapers hurting my kids? Should I be more ready to sacrifice in this way to save money on diapers considering our financial situation? Am I being selfish?
(Not to mention I dreaded telling my sweet friend who had spent so much time enthusiastically teaching me about everything and assuring me I'd fall in love with cloth.)
As with so many other of those little insecurities that I fight sometimes, I started to doubt, doubt, doubt and worry, worry, worry. I am happy to say that the Deceiver had a relatively short-lived field day shaking me up though, because the Lord mercifully took off my self-imposed blinders and reminded me of something: "For well I know the plans I have for you…" He said. Via the cute little canvas sign I have above the sink in my kids' bathroom. 🙂
I just realized all of a sudden…remembered really…that God has very different plans for every person and family I know. There are so many different kinds of families in my acquaintance. We all have incredibly different personalities, backgrounds, work situations, family dynamics, illness factors, financial situations, and constantly shifting seasons of life.
Of course no one way of diapering our babies is right for all of us. For goodness sake. No one way of feeding our families or educating our kids or praying or living is going to be the same (or the One Right Way To Do It) in God's plans for all of us.
The one thing we do all have in common (other than the fact that none of us has things all figured out!) is that we are called to teach our kids about God, to grow our marriages and our homes in love and relationship with God, and to witness our faith to everyone around us.
As long as we are doing those three things in the ways we've discerned as best we can that God wants us to do them, we (I) have to rest in that and resist comparing ourselves constantly to others.
Part of that "resting" is admitting that we aren't perfect at discerning His will for us, but trusting that if we keep praying for a heart open to the Holy Spirit's promptings, He will let us know what we're supposed to be doing.